Hand-crafted for you and your furry friend
All of our dog beds are hand-crafted ensuring the highest quality fabrics, orthopedic foam, comfort, and style. The couch design was created to provide a luxurious piece of furniture in our homes for our best friends without compromising on style. We've sourced numerous fabrics to provide an option for every home, and we continue to source for great additions to the collection. Comfort for them, style for you!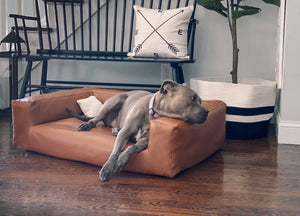 Tail-wagging features
Accident-resistant liner
Accidents happen but don't worry, our liners keep the foam clean and safe
Inter-changeable covers
Regardless of the reason, you can change the look as often as you'd like
Non-slip bottom
Regardless of your floor type, we have you covered - and the zipper is hidden also
Attention to detail
The sofa provides a style that will enhance your décor & look amazing in your home
Free Shipping
All of our products ship for free to the contiguous US states.
Made for life
The last dog bed you'll need to buy. The interchangeable covers allow you to keep a clean look at all times – whether you paint, move, or just want a change.
Superior quality
All of our products are made-to-order ensuring the highest quality of workmanship so your pup gets the best sleep ever!